Who is Ertan Beyatlı?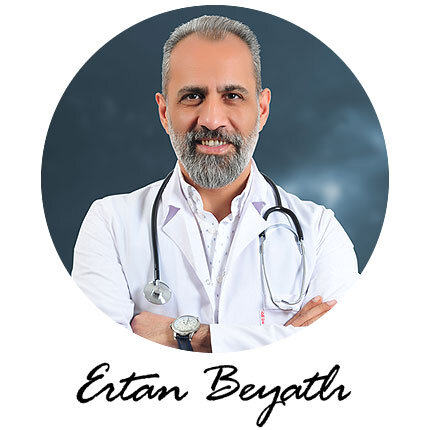 Dr. Ertan Beyatlı, issued by the Ministry of Health of the Republic of Turkey International Health Tourism Authorization Certificate operates within the scope of.
(08 April 2021)
Ertan Beyatlı
I was born in Kirkuk, which is within the borders of the National Pact. Since my father was a doctor, I had the opportunity to meet the hospital environment since I was six years old. It was a sacred duty for me back in those years to relieve people's complaints and illnesses and to help them with all my might.
There was a sentence that I remembered from my elementary school years and that I constantly uttered: "Being a doctor is not enough, I will help people more that I will be a surgeon". It was my dream and I always believed that "dreams are for making ..".
Months passed, years passed, and in 1998, S.Ü. I graduated from the Faculty of Medicine. In 1999, I started my doctorate education in Konya Selçuk University Meram Faculty of Medicine Department of General Surgery and in 2005 I completed my specialization as a General Surgery Specialist from the same faculty with a score of 90/100. I am married and have two children.
During my assistantship, I published articles and case reports in many national and international journals. In 2004, Prof. Dr. I prepared under the consultancy of Adnan Kaynak (Intraoperative Determination of Intestinal Viability) thesis subject JSR (Journal of Surgical ReaserchGroup A was published in the American Journal of Surgery.
Thank you ..
First to my mother and father who gave birth to me,
Supporting my brothers and sisters,
To my dear wife,
to my teachers and teachers who worked hard in my school and university life,
I am grateful to my professors who contributed and contributed to my education during my specialization. Prof. Dr. Adnan Kaynak, Prof. Dr. Şükrü Özer, Prof. Dr. Şakir Tavlı, Prof. Dr. Yüksel Tatkan, Prof. Dr. Mustafa Şahin, Prof. Dr. Şakir Tekin, Prof. Dr. Faruk Aksoy, Prof. Dr. Celalettin Vatansev and Prof. Dr. Serdar Yol.
In addition, I would like to thank my senior colleagues who studied assistantship with me in those years, especially Prof. Dr. Ahmet Tekin, Op. Dr. Murat Gölcük, Prof. Dr. Hüsnü Alptekin, Op. Dr. Şükrü Salih Toprak, Assoc. Dr. Hüseyin Yılmaz and Prof. Dr. I would like to express my gratitude especially to Mehmet Erikoğlu.
After my specialization years, I continued my studies abroad. Later, I worked in private health institutions in Konya, Kırklareli, Edirne, Gaziantep, Çankırı, Zonguldak, İzmir, Ankara and Afyonkarahisar provinces. Finally, I am working in my private practice in the province of Kırklareli.
Languages ​​I Know: I know Turkish, English, Turkmen, Arabic, Azerbaijani, Ottoman Turkish and Persian languages.
My hobbies: Playing baglama, singing, listening to music, reading books, writing poems, computer and table tennis.
You can forward your questions, suggestions or complaints here.
Training
Medical School: University of Medicine Faculty: 1992-1998
Specialization / Expertise (PhD): Selçuk University Meram Faculty of Medicine. General Surgery USA - 1999-2005
Endoscopy and Colonoscopy Training: 1999-2010
Laparoscopic Surgery Training: 1999-2005
International Health tourism Licence of authorization - 2021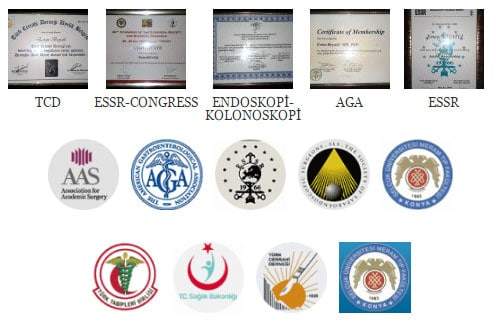 Associations and Organizations:
Turkish Medical Association (TTB)
Turkish Surgical Association (TCD)
National Trauma and Emergency Surgery Association (UTACD)
American Association of Laparoendoscopic Surgeons (Society of Laparoendoscopic Surgeons SLS, USA)
European Surgical Research Association (European Society for Surgical Research ESSR, Belgium)
American Academic Surgery Association (Association for Academic Surgery AAS, USA)
American Gastroenterology Association (American Gastroentrological Association AGA, USA)
Areas of interest
Gastrointestinal Surgery (Digestive System)
Abdominal Wall Hernias (Abdominal Hernias)
Proctology (Hemorrhoids, Fissure, Fistula, Laser treatment)
Laparoscopic and Minimally invasive Surgery
Breast Surgery
Thyroid Surgery
Endoscopy, Gastroscopy and Colonoscopy
Local surgical interventions
To get information about the services provided in the fields